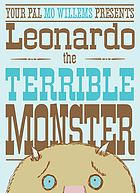 Monsters are the cookie eater in all of us. They're loveable and furry. They may be pocket sized mischief makers, or they could be the troll who lives under the bridge or under our beds. They could be us. Or they could be what we are most afraid of. When I'm telling stories to three year olds, though, monsters tend to come in bright colors, have googly eyes waving on unlikely antenna, and are sillier than they are scary.
Go Away, Big Green Monster!
Where the Wild Things Are
Do it as: 1. Puppet show or 2. Audience participation
Doing Where the Wild Things Are is like coming home -- so many years of reading this book to so many different children. The children are as fascinated by the fact that I do have it memorized, but I still like to incorporate the physical book with its wonderful pictures as a jumping off into Sendak's strange world. Just did it again today. When I finished, I looked around the audience of mixed ages, from 1 to 8, and all were rapt.

I used my puppet theater and stuck my head out of the top to be the mother, while I had Max chasing a little stuffed dog around. Then he sailed off through night and day in a toy boat I had and danced around with those wild things while I recited the words of Sendak's great book melodiously.

I love doing this as a puppet show, but it is just as effective to read the book. Since so many children (and parents) know it, ASK them what happens next. Flip it. "Let's see, how does this book start off." Show the picture. "'The day Max wore---'" what is Max wearing? And made mischief of one kind and another, his mother called him --Let's see, what did she call him? Petunia head? Flibbertyflabberty?" etc.
Songs:
5 Little Monsters sleeping in my bed
1 crawled out from underneath the spread
I called to Mama and Mama said,
"No more monsters sleeping in the bed!"
4 Little Monsters…
Your child will wonder why you begin humming and singing as you flip over the horribly illustrated pages of this instant classic.

The ULTIMATE in interactional picture books -- push the button and the monster changes colors, goes polka dots, etc. So -- don't push the button! Oh, no! You pushed the button!
Monster Crafts
Soooo many great monster crafts, but for sheer creativity, this is my favorite!
Materials:
Large and small pieces of construction paper, punched out into circles, squares, triangles, etc. Orange dots I glued googly eyes to. Glue sticks.
Intro:
We talked about how many eyes and mouths and noses WE have, and where these are located. Then we looked at monsters, and noted that they could have one eyeball, or three, or have a couple all over their heads. There's just no saying with monsters!
The kids went at it, creating monsters out of the shapes and colors they were chose, and adding eyeballs etc. The googly eyes were a hit. Some were very big and elaborate, some not, but they were all very different and craaazy.
Alternative:
Use CDs. Glue two together, sandwiching some flexible twist ties between for legs and arms. Give the kids sticky circles, wiggle eyes, and foam shapes to add features and details.