Birthday Party! Beach Party! New Year's Party! Earth Day Party! Tea Party!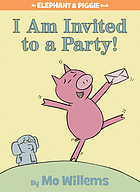 Cake! Games! Songs! Fireworks! It's always the right time to throw a dance party, or a cupcake party, or a rainy day party, and here are some great books to go with the theme. Have you been doing the Beach Theme to death? Do a Beach Party Theme and throw in extra songs and a game!
Don't usually serve food at your library? A party is a chance to make an exception. Looking for a good reason to play The Jackson Five's ABCs and dance? Do it!
It's a party! Come dressed for your party in your most outrageous outfit, whatever suits your Fancy Nancy. Glinda the Good Witch evening gown? Tux? Wedding dress? Halloween costume? Don't forget the noisemakers and confetti!
2014 Lineup:
Intro: I am Invited to a Party by Mo Willems
Gripping Tale: Let's Have a Tree Party! by Thomas
Good story: Clifford's Birthday Party
Fun ending: Is Everyone ready for some fun? by Jan Thomas
Happy Birthday
Happy Birthday, always a favorite!
Craft
Hats, of course!
Crowns, cones, or CDs? (Yes, CD hats! I saw these at an art festival.You'll need four feet of tulle, knotted in the middle. Feed the two ends through the CD, shiny side up. Don't pull tightly: you'll want to feed the ends of the pipe cleaner stems through the knot. Add a few more shorter lengths of tulle to hide the pipecleaner ends and give pouf. Add stickers. Add glitter. Add beads. The crazier the better!) Tip: If you do decide to make party hat cones, do yourself a favor and buy the cones at the dollar store. Making them just isn't worth it. Let the kids decorate, decorate, decorate.
More Resources
Jane McManus' resources for throwing a great par