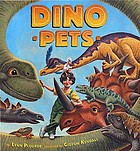 Mammoth in the Fridge
by Michael Escoffier. The parents are horrified to discover a whoolly mammoth in their fridge one morning. They call the fire dept., but when the mammoth escapes and runs up a tree, they leave. Turns out their daughter is in cahoots with the beast.
PIRATE'S PERFECT PET by Beth Ferry. Alas, I forgot to wear my pirate hat, but this was one still a big hit with the kids. Skip the note from Mom and get right into the action, the progression from farm to zoo to pet store. Prop: Pirate's hat and sword.
An Octopus Followed Me Hom
e by Dan Yaccarino. And that's a bad thing? Maybe to Dad.
My Rhinoceros by John Agee. His new pet rhino is just as sluggish as he looks, so the boy's a bit disappointed. Until he discovers he can fly.
Prop:
Bubble wrap for the popping noise.
HOW DO DINOSAURS CHOOSE THEIR PETS by Jane Yolen, who just can't miss with this series.
Dino Pets
by Lynn Plourde. Lush illustrations, short rhyming verse. Plunk down hard on the ending rhymes. But not such a hit. Maybe the timing.
If All the Animals Came Inside
by Eric Pinder. GREAT INTERACTIONAL. This books has a wonderful rhythm you can really pound out; get the moms to join in while you hit the beat. But the kids were wandering by this time. Maybe stick to the 6 - 8 page rule.
Be certain to define "mammoth"; ask what they think of cover picture.
What Pet Should I Get by Dr. Seuss. Don't forget your basket of little pets. Still very fascinated by the concrete objects.
Try:
USE: Is There a Dog in this book? by Viviane Schwarz.
I Love My Buzzard by Tres Seymour. Ha ha. The Great Pet Sale by Mick Inkpen
The Teacher's Pet
by Rissi.
Amazingly impractical teacher hatches out a rhino from a tadpole and the kids have a very hard time convincing him that the rhino just doesn't belong in the classroom.
For Older Kids: Penguin by Polly Dunbar, This Moose Belongs to Me by Oliver Jeffers, Children Make Terrible Pets by Peter Brown. Excellent, funny books, but all a bit on the twisted side for the very, very young in this group.
Strictly No Elephants by Mantchev;
SPARKY
by Jenny Offill.
Hurry, hurry, Drive the Firetruck (after the Mammoth in the Fridge)
The Waves in the Sea after the Pirate's Perfect Pet
Wheels on the Bus with pets as passengers
ANY songs about animals.
Pet rugs. Materials: Fun foam rectangles & fun foam stickers, markers, scissors.
I know, I know! Dopey but easy and fun. And a great intro for the very young for fringeing the edges of the rug without the worry of 'cutting something out' correctly. Let the kids fringe the edges and stick on the embellishments. And I had enough goofy little stuffed animals to give them all a 'pet' for their rug.