Music belongs at every storytime but this storytime is all music and sound! Try to pull together a storytime that really is all music -- Music book booklist Don't forget to add Pharrell's Happy and yes, even What Does the Fox Say? as well as Raffi and Twinkle Twinkle.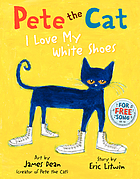 Miss Mary Mack by Hoberman. Big Book. Clapping song.
Pete the Cat by Eric Litwin is such a happy book. Each time you pause and ask the kids, "And was Pete sad?" you can count on a chorus back: "Goodness no!"
Be Quiet, Mike!

by Patricelli. THE BEST READALOUD FOR MUSIC!!! Can't wait to try it out.
Little Blue Truck Leads the Way by Alice Schertle. The noises of city traffic combine with great jingly rhyming text.
Gobble Gobble Moooooo Tractor Book by Jez Alborough. What could be better than a book which combines farm animal sounds with farm machine sounds? It's the perfect marriage.
Five Little Monkeys Jumping on the Bed by Eileen Christelow.
The Seals on the Bus by Lenny Hort. A very witty take off on a song we sing A LOT.
Dan, The Taxi Man by Eric Ode
Froodle by Antoinette Portis. This bird just won't go peep.
Down by the Station by Jennifer Riggs Vetter. All those cars and trains and trucks make soooo many noises. Very cute.
Jazzmatazz! by Stephanie Calmenson. Lively.
Songs:
After Goggle Gobble Mooooo segue into Old MacDonald with a bagful of farm animal puppets. But mix in a few wrong ones -- like dinosaurs just for a reaction.
The secret to making shaker eggs? Duck tape stuck down LENGTHWISE! Even babies can't crack these suckers open. But I'll use up the old dinosaur eggs from Oriental Trading in the back.