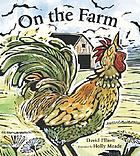 On the Farm by David Elliott
is illustrated with wonderful woodcuts that immediately catch your eye and draw you in. The real miracle for me is that the book is composed of short poems written about each of the farm animals. Now I love readaloud books that jingle and rhyme, but I usually steer of true poetry for the kids. But these short, fun verses are an enrichment that evoke the animals brilliantly. A real addition to the language.
Tractor by Craig Brown is simple and beautifully written about farm machinery.
Mandy Archer's Driving Series has four books and the kids love them.

Action packed, these animal drivers are always there for every emergency. Just like we like to be.
Next time:
Gobble Gobble MOOO Tractor Book
by Jez Alborough. Kinda perfect: farm animals imitating tractor noises.
For Older Children
Beatrice's Goat
Click, Clack, Moo
Giggle, Giggle, Quack