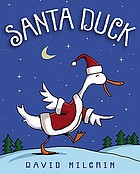 Books:
Intro: Santa Duck

by David Milgrim was a big favorite for starters. His books are all writtten with a funny, light touch, but since the Jingle Quack was a hit with Olivia and the requests from the different farm animals was funny for all of us.

Gripping Tale: I tell the short version of Christmas Trolls that I learned from a Golden Book many years ago. It was based on Peer Gynt and the Trolls. I take out the confusing details and violence, but it's a wonderful story: The trolls saying "Nice pussy cat, nice pussy cat," to the polar bear, and then he attacks and sends them scurrying! I even have a nice new polar bear puppet! I had the kids compare their paws to the paw on If I Were a Polar Bear to get across how big a polar bear is.
Didn't do this year:
If You Take a Mouse to the Movies by Laura Numeroff. I did this with the xylophone. Every time the mouse demanded something new, I hit a higher note. Sort of giving the stairsteps book a boost.
Santa's Moose by Syd Hoff.
What If? by Else Holmelund Minarik, verrrry short book about two bad cats.
Santa Mouse by Michael Brown.
A Bad Kitty Christmas by Nick Bruel
Songs:
5 little gingie men

Santa on His Sleigh (to the Wheels on the Bus)
Santa on the sleigh says "Ho, ho, ho! (Ho Ho Ho in a deep voice)
The reindeer on the sleigh fly way up high (move hands upward in diagonal direction)
The snow on the sleigh falls gently down... (flutter fingers and move downwoard)
The bells on the sleigh go ring, ring ring (pass out bells to ring)
Courtesy
Cindy Burchell, Wells County Public Library
Jingle Bells. We used all the musical instruments.
2014: Coffee Filter Snowflakes
Materials: Coffee filters, markers, water & paintbrushes
Tips: A volunteer prefolded the filters. I did A LOT of demonstration of the cutting, cutting and opening it up, cutting and opening it up, etc., and encouraged them to do that too. I showed the marker and "just a drop of water" --- watch the paper SUCK up that water trick. But I didn't pass out the water and markers till after the cutting was well into progress.
Note: The one above was done mostly by a mum!
If you happen to be two years old, pipe cleaners are the best stringing material for a number of reasons. They're fuzzy, they come in bright colors, and they're easy to hold in your fat little fingers.
This is supposed to be a wreath, but I noticed most of the kids were wearing them home.
2013:
Story hour was for a very young bunch of wigglers today. I was balancing between some kids less than two, some wiggley twos, and Olivia. So I didn't get to
Santa's New Jet
by Biedrzycki or
Where Does Joe Go
by Pearson.