Birthday Party! Beach Party! New Year's Party! Earth Day Party! Tea Party!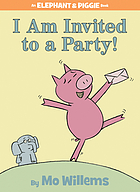 Cake! Games! Songs! Fireworks! It's always the right time to throw a dance party, or a cupcake party, or a rainy day party, and here are some great books to go with the theme. Have you been doing the Beach Theme to death? Do a Beach Party Theme and throw in extra songs and a game!
Don't usually serve food at your library? A party is a chance to make an exception. Looking for a good reason to play The Jackson Five's ABCs and dance? Do it!
It's a party! Come dressed for your party in your most outrageous outfit, whatever suits your Fancy Nancy. Glinda the Good Witch evening gown? Tux? Wedding dress? Halloween costume? Don't forget the noisemakers and confetti!
2014 Lineup:
Intro: I am Invited to a Party by Mo Willems
Gripping Tale: Let's Have a Tree Party! by Thomas Martin.
This one touches on all the features of a fun party -- Simon Says, pizza & ice cream, music and counting. This book IS a party.
Good story: Clifford's Birthday Party
Good story: Popcorn by Frank Asch.
Fun ending: Is Everyone ready for some fun? by Jan Thomas
Books:
Book: Don't You Dare, Dragon

by Annie Kubler. This goofy puppet book really started our storyhour off right. Poor Dragon and his hot breath really got into a lot of trouble! Elliott and Oliver were very sympathetic listeners -- it was almost as if they knew what it was like to make the occasional mistake, like melting all the icecream on the truck and popping the trampoline.

Hello! Is this Grandma?

by Ian Whybrow. Love this cute lift the flap -- with a big hungry crocodile lingering in the corner.

Bulldozer's Big Day by Candace Fleming. Construction vehicles + noises + party = big success.
Fire! Fire! Said Mrs. McGuire

. Glad I had so many older kids for this story. They really appreciated listening for the ending rhyme which clinched each page's verse. This book is a short cutey, but remember when you begin it to emphasize that it's about a FIRE! A scary FIRE! Oh, no! Those poor mice!

Dear Tyrannosaurus Rex

by Lisa McClatchy. Hmmmm, how do you plan a party? First you decide what kind of party you're going to have. Then you decide who you're going to invite. Would it be a good idea to invite a dinosaur? This charming book took the reader through each aspect of a great party -- pinata, party games, pizza -- with a T-rex in attendance. The kids were fascinated.

Monster Math

by Anne Miranda. What's a good number of people to invite to your party? Is one person a party? Are two? How about three? How about if they're MONSTERS? There's a nice bit of counting in this book, and the verses bounce along cheerily.

A Birthday for Cow by Jan Thomas.

You can tell Cow deserves a party just by the looks of her.

Stanley's Party by Linda Bailey

Snappsy the Alligator by Falatko

The Entertainer by Emma Dodd. An entertaining bear appears at a party. The kids love his whoop-de-doo and the gusto with which he eats everything in sight. Parents aren't so crazy about him. No one realizes he's the real deal.

Happy Birthday, Cupcake! by Terry Border. So cute!

If a T. Rex Crashes Your Birthday Party by Esbaum. This is a must.
Book: Birthday Monster board book by Sandra Boynton. Everyone stood up and we danced around and acted silly to this.
Book: Mouse Party by Alan Durant. This cute short tale about a mouse who moves into an empty house, invites many guests to a party, and discovers that Elephant wants his home back was a fun readaloud.

Next year: Don't forget your party popper!
Book: The Birthday Fish by Yaccarino. A book about a little girl's birthday party for the end of a storyhour with only boy energy. Flexibility is the key to storyhour success.

We Played

Party Day!

by the Laurie Berkner Band.
Happy Birthday, of course!

Five Little Monkeys, Jumping on the Bed

The More We Get Together
Games:
Hokey Pokey
Duck Duck Goose Goose

!

Bingo
C
r
a
f
t
:
Hats, of course!
Crowns, cones, or CDs? (Yes, CD hats! I saw these at an art festival.You'll need four feet of tulle, knotted in the middle. Feed the two ends through the CD, shiny side up. Don't pull tightly: you'll want to feed the ends of the pipe cleaner stems through the knot. Add a few more shorter lengths of tulle to hide the pipecleaner ends and give pouf. Add stickers. Add glitter. Add beads. The crazier the better!) Tip: If you do decide to make party hat cones, do yourself a favor and buy the cones at the dollar store. Making them just isn't worth it. Let the kids decorate, decorate, decorate.