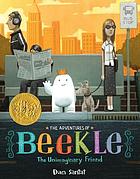 Children learn so much from their friends, how to play, how to speak, even how to be human. At the same time, two year olds can't Twitter or Facebook. They are dependent on us to make their playdates, and I am happy to say, they quite often come to my library to meet other two year olds!
Quiz your storytime visitors with a flannelboard mix of which famous friend goes with whom: Elephant & Piggy, Pooh and Piglet, Curious George and the Man with the Yellow Hat, Dora and Diego.
Any Elephant and Piggie book by Mo Willems
Do You Want To Be My Friend? by Eric Carle. Nobody wants to be friends with the mouse! Not the horse, not the crocodile, not the lion...until he finds another mouse. Great readaloud -- all those animals!
A Sick Day for Amos McGee by Philip C. Stead. This Caldecott winner is the charming tale of a living zookeeper who takes sick one day and has to stay home. Do the animals miss him? No, they go to visit him.
The Adventures of Beekle. Another Caldecott winner -- very sweet -- about an imaginary friend. This may take some explaining for two year olds.

A Porcupine Named Fluffy by Helen Lester. Definitely try this year.

Ribbit! by Rodrigo Folgueira. The paranoid frog population is suspicious of the new pond occupant -- a croaking pig. What can he mean by it? Maybe not much. Maybe he just wants to be friends!
Say Hello to Zorro! by Carter Goodrich. All the books in this series deal with the sometimes difficult friendship between two very doggy dogs. Wonderful illustrations.
A Splendid Friend Indeed by Suzanne Bloom. Even good friends can be annoying sometimes. But if you try hard enough, you can find something to do that you both like. (Like reading a book!)
How Do Dinosaurs Stay Friends? by Yolen. Another cute entry in this very useful d'ouevre.

Friendshape by Amy Krouse Rosenthal. Simple geometric shapes illustrate the point.

My Friend Bear by Jez Alborough. The bear and the boy bond over silliness.
Skinnamarinka