Pooh's tales are a bit long for the average bunch of three year olds, and the Berenstains are.... well, they aren't wearing well with me. But by all means take them off the shelf and let them take a bow today.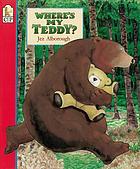 Polar Bear's Underwear by tupera tupera. Quite perfect. Don't forget, mouse and polar bear voices. And then let the kids guess a little about the underwear. They got the rabbit's carrot underwear right. (Not all are wearing underwear yet, so I didn't belabor that point, but I did mention it.)
P

l

a

y

Brown Bear, Brown Bear by Bill Martin. I used the figures from kizclub and strung them up on my storytime clothesline.
The Bear Ate Your Sandwich by Julia Sarcone-Roach. (Actually a supercute dog ate your sandwich -- surprise ending. VERY IMPORTANT: Read the book in a gruff dog's voice. This is so important you should put a sticky on it to remind yourself. Remember: lying dog voice.
Where's My Teddy?
by Jez Alborough

. The
rhyme in this book is so much fun it practically reads itself aloud. Boy loses teddy bear in forest; Giant bear loses giant teddy in same forest. Boy finds giant teddy and is horrified! Ted won't fit in his bed! Likewise for Bear! When they meet again, they know this much. THEY WANT THEIR OWN BEARS BACK! I made it a point to show the kids just how tiny the bear and boy were on the page -- you could hardly see them.
Bear Wants More
(The Bear Books) by Karma Wilson. Have you ever heard a story about a bear that eats too much and gets stuck trying to get out of his cave? Rings a bell with me, too, but this is a cute version.
Baby Bears by Kari Schuetz.
From the Super Cute series, and these are supercute.
The Little Mouse, The Red Ripe Strawberry, and The Big Hungry Bear
by Don Wood, Audrey Wood. Yup, a classic.
We're Going on a Bear Hunt by Michael Rosen. Maybe cut short a bit, but get interaction! I printed out the pictures from www.kizclub.com and blew them up on the computer, putting the words on the back. Then I told it with a clothesline because it's so sequential. The fun part about this book is the rhythm and then the sound effects you can add as you squerch through mud, fight your way through a snowstorm, etc. (I left out the forest.) I positioned my giant bear at the end of the clothesline so that when we got to the cave, there he was sitting with his shiny wet nose and two big goggly eyes. Then I rushed home to my story teller's chair, taking all the caves and rivers etc. off the clothesline and clutching a tiny teddy bear for safety.
P
l
a
y
:
Ten in the Bed
by David Ellwand. This is a cute board book, but I always do this as a little play. I get five (not ten) teddy bears and line them up on a big pillow on a table. Then I sing the song, roll the bears over, and roll one right off the table and onto the ground. The moms quickly picked up on this and inserted a "Oh, whoopsie!" into the chorus. At the end the smallest bear nestles into the covers and says, "I'm lonely!"
OR 5 fuzzy teddy bears sitting on the wall/sitting up straight and feeling pretty tall/1 fell off and that was all/now there're 4 fuzzy teddy bears sitting on the wall.
The Bear Went Over the Mountain (I don't really get this song. Why does he go over the mountain? What's the point?)

Teddy Bear, Teddy Bear turn around
Teddy Bear, Teddy Bear touch the ground
Teddy Bear, Teddy Bear shake your hips
Teddy Bear, Teddy Bear blow a kiss.
Teddy Bear, Teddy Bear jump up high.
Teddy Bear, Teddy Bear see my smile.
Teddy Bear, Teddy Bear give a hug.
Teddy Bear, Teddy Bear lots of love.
Relief painting

I demonstrated this (the miracle of using water to stick paper to paper) and it worked very well. Some bears, of course, looked like they had seen action in a volcano, since I gave them yellow and red too. But the technique worked very well.
Fuzzy polar bear ornament
Ever host a Teddy Bear Party at your library? Ask your favorite young patrons to bring in their teddy bears for a slumber party. They can pick them up the next day. Take lots of pictures of the teddy bears enjoying a tea party at your library, reading books, doing puzzles, snoozing, and have them ready to show their owners the next day. Aw, making memories.